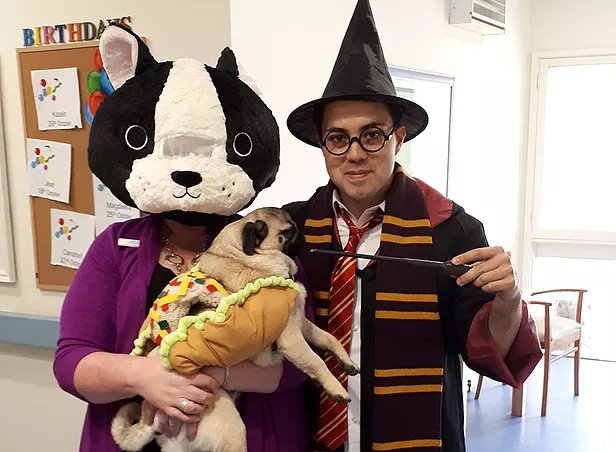 Life should be about fun times, happy memories and experiences that make you look back and smile.  At Holmwood Aged Care the residents continue to engage in new activities and cultural events and October saw them celebrating Halloween.
Although All Hallows Eve or Halloween, has only recently been making a big impact in Australian culture, our residents had a fantastic time celebrating this ancient observation.
With the facility decorated in orange and purple, cobwebs and spiders, the residents had a fantastic time baking 'Halloween themed treats'.  These included edible eyes, cupcakes they iced and decorated themselves, potion themed drinks and jelly brains, and of course chocolates and lollies, all of which were devoured at a spooky halloween feast.  There was a devilishly decorated table with candles and candelabras, cobwebs, horror novels, spooky faces, spiders and snakes that all adding to the creepy atmosphere.
The residents were really interested in the origins of the festival and with staff, they researched the roots of All Hallows Eve or Samhain and the many myths and legends surrounding the date.  They found some really interesting facts and stories.  Many of our residents were able to share their childhood stories of All Saints Day, Halloween, Guy Fawkes (or Bonfire) night which was great to evoke some wonderful old memories.
It was a fantastic day and the staff all got on board to really create a 'Trick or Treat' atmosphere by all dressing up in costumes.  Residents tried on hats and wings and other paraphernalia to many laughs.
It goes to show that no matter how old you are, experiences can still be novel and fun.  You're never too old to try something new… and sometimes we're all just big kids at heart!