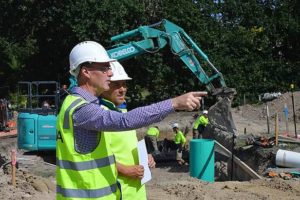 Healesville will soon be home to an expanded aged care community. Construction has commenced on an exciting new development that will provide 60 additional aged care beds for residents in the Yarra Valley.
Rob Wylie, one of the business owners, recently inspected the site with Project Manager, Ben Leigh and was impressed with the works underway. Rob being a local resident himself and having lived in the Yarra Valley area for over 30 years, is excited about the project and the significant benefits it will have for the local community.
Not only will the expanded home create employment opportunities but the local traders and allied health care providers will benefit as a result of the increased requirements for fresh local produce and personal care services.
The home will offer rooms with ensuite bathrooms, a private dining area where residents and their families will be able to share a meal together, a hairdressing salon, an arts and crafts area, as well as a variety of lounge areas with large screen TVs. It will also feature landscaped courtyards and terraces where residents will be able to enjoy the fresh air and sunshine.
The second phase of the development will include a dedicated dementia wing for those residents that require a higher level of care and assistance with day to day living.
The development project is expected to be complete in early 2018.
For information in relation to potential employment opportunities or for current or future residential enquiries, please call Holmwood Aged Care on (03) 5962 4321.
17-19 Lalors Road, Healesville.