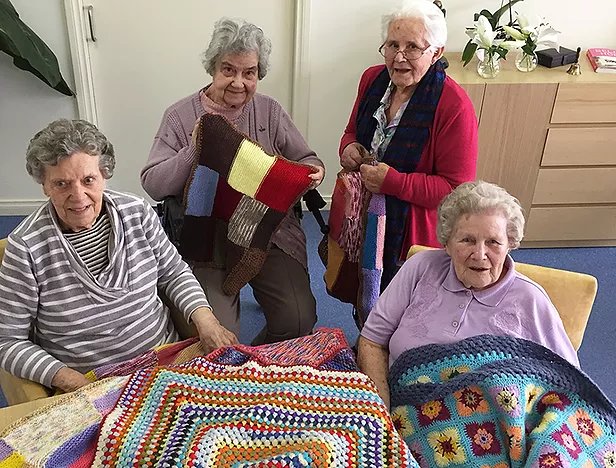 A local animal organisation is receiving much needed support to care for animals in need.  A group of senior women knit blankets and animal pouches for unclaimed, surrendered, lost and stray pets housed at Animal Aid in Coldstream in the Yarra Ranges.  These items provide warmth and comfort until the cats and dogs find their new loving home.
Animal Aid relies on this type of community assistance.  "As an open door shelter, we never turn away an animal in need.  The items so lovingly produced by the ladies at Holmwood Aged Care help to nurture our beloved animals." said Carolyn Moorshead from Animal Aid.
The residents at Holmwood Aged Care, have taken to the 'Woolworks' program with gusto. Resident, Evelyn Stillwell reports "I love catching up with the other ladies at our weekly knitting group.  We work on knitting squares or patches and then a helper pieces them together to create blankets or animal pouches.  It's a real labour of love."  The recipients are tough on their blankets though, with holes being a constant problem!
Gloria Harris encourages the community to get behind this project.  If you would like to donate spare wool, it will be gladly accepted and used for the animals in need initiative.
For wool donations:
Holmwood Aged Care, 17-19 Lalors Road, Healesville VIC 3777 – Tel: 5962 4321
To learn more about Animal Aid visit: animalaid.org.au